Education and Licenses:
Bachelor of Architecture with Distinction, Washington State University, 1968
State of Washington, License to Practice Architecture, 1975
Past Experience:
2012 – Present STUDIOEDISON
2005 – 2011 HKP Architects; Partner
1978 – 2005 The Henry Klein Partnership, Architects; Partner
1972 – 1978 Henry Klein and Associates
1971 – 1972 Mel Streeter and Associates, Seattle, WA.
1970 NBBJ, Seattle WA.
1968 – 1969 Earl R. Flansburgh and Associates, Cambridge, MA.
Affiliations/Organizations:
NW & Seattle Chapter AIA
Board of Trustees, Museum of Northwest Art, 2008 to 2018
Board of Trustees, Home Trust of Skagit (a Community Land Trust), 2008 to 2016
Advisory Board Member, WSU School of Architecture, 1992-1996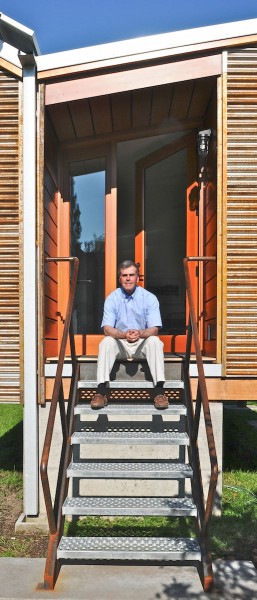 David Hall graduated from Washington State University in 1968 and began his professional career in Cambridge, Massachusetts with Earl R. Flansburgh and Associates. Returning to Seattle at the end of 1969, he worked for NBBJ and Mel Streeter and Associates while also undertaking architectural photography. In the Spring of 1972, David moved to the Skagit Valley to begin apprenticing with Henry Klein, FAIA. Early projects included the Pacific Northwest Art Center, The Skagit County Administration Building, senior centers for Bellingham, Whatcom County and Everett, and a Benedictine Monastery on Shaw Island. He also worked on a variety of residences. At the end of 1978, David became a partner.
As a partner at the Henry Klein Partnership and, subsequently, HKP Architects, through 2011, David was the lead designer for the majority of the firm's award-winning work. Projects include public schools and university buildings, community/senior centers, environmental learning centers, monastic buildings, an interpretive center and multiple residences.
David gained valuable sustainable design experience through his committed involvement as HKP's principal-in-charge and project designer on the North Cascades Environmental Learning Center (NCELC). David authored the firm's sustainable design standards that became the guidelines for subsequent projects. The NCELC has won recognition both locally and nationally, including LEED Silver certification. David believes basic sustainable features should be incorporated into every project as an element of responsible architecture.
Since starting his own STUDIOEDISON practice, David has provided architectural services for multiple residences. Projects range from small studios, ADUs, new residences, renovations, and pro bono work for non profit entities. Being a near lifelong resident of Washington State, David understands the importance of the special beauty of the Pacific Northwest and the unique role that site, context, climate and materials play in the design of NW buildings. Maintaining a balance with nature, both in his personal life ( backcountry hiking, plein air painting, nature photography, fly fishing and landscaping) as well as in his professional approach to design, has led to award-winning architecture well suited to our region. Throughout his career, David has sought to combine the art of architecture with the practical aspects of building, program and budget.
STUDIOEDISON not only provides an office for his architectural practice, but also serves as an art studio for watercolor painting and photography.