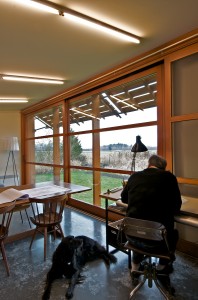 David Hall was the Principal-in-Charge and Project Designer at HKP for all of the following award winning projects unless noted otherwise.
STUDIOEDISON David Hall AIA
Anacortes Old Town House on 9th Street
2015 NW Chapter AIA – Honor Award
STUDIOEDISON (David Hall Architect AIA)
2011 Seattle Chapter AIA – FutureShack selected project
2011 NW Chapter AIA – Honor Award
Edison House and Gardens
2001 NW chapter AIA – Citation Award
2001 NW chapter AIA – Glenn Hunt Award
Alternate North Cascades Complex, Ross Lake, WA.
1972 January, Progressive Architecture Design Awards – AWARD*
* An alternative design proposal originally conceived by David Hall as a thesis project for his Architecture Degree at Washington State University in 1967-68 for the recreational development of the newly formed North Cascades National Park.
Henry Klein Partnership Architect
Casa Della Buona Forchetta
2010 NW Chapter AIA – Glenn Hunt Award
2011 NW Chapter AIA – Merit Award
Samish Valley Farmhouse Additions
2011 NW Chapter AIA – Citation Award
Guemes Island Summer Cabin
2009 NW Chapter AIA – Merit Award
Writer's Studio Addition on Kiket Bay
2007 NW Chapter AIA – Merit award
North Cascades Environmental Learning Center
1999 Seattle Chapter AIA What makes it Green – top recognition, innovation and vision
2000 NW Chapter AIA Citation Award – Un-built project
2005 NW Chapter AIA – Merit Award
2006 AIA Washington Civic Design Awards – Merit Award
2006 AIA Northwest and Pacific Region – Citation Award
2006 Forest Stewardship Council – National Design Award
2008 Council of Educational Facilities and Planners International –
Polished Apple Award and Peoples Choice Award
Anacortes Townhouse on 8th. Street
2005 NW Chapter AIA – Citation Award
Maritime Heritage Park Environmental Learning Center
2003 NW Chapter AIA – Citation Award
House at Chimney Rock
2002 NW Chapter AIA – Honor Award
Biz Point House Additions
1999 NW Chapter AIA – Citation Award
Caldwell House
1998 NW Chapter AIA – Merit Award
Burlington Edison High School
1997 NW Chapter AIA – Honor Award
Sun Space House
1993 American Wood Council, WOOD DESIGN – National Honor Award
1995 NW Chapter AIA – Honor award
1995-96 AIA/Sunset Magazine Western Home Awards – Special Award for low cost design
1996 AIA Northwest and Pacific Region – Honor Award
Todd Hall Addition, WSU
1993 Washington Masonry Institute – Honor Award
1991 Seattle Chapter AIA – Honor award
House on Lake Whatcom
1991 AIA/Cedar Bureau – National Honor Award
Blake Place Cabin Renovation and Additions
1985-86 AIA/Sunset Magazine Western Home Awards – Citation
1987 Seattle Chapter AIA – Commendation Award
Jones Residence
1986 Seattle Chapter AIA – Peoples Choice Award